ACIS Virtual Book Exhibit
Save 50% on all Syracuse University Press books with discount code 05SUMMER now through July 1.
Founded in 1981, the Irish Studies series was the first of its kind in North America and is a leader in the field. In addition to explorations of canonical writers such as W. B. Yeats and James Joyce, Syracuse University Press's Irish line invites texts that expand, question, and reform canonical disciplinary boundaries in meaningful, historicized, and inclusive ways. We thus actively seek to publish cutting-edge work reflecting a contemporary and intersectional understanding of twenty-first century Ireland, as well as studies that interrogate and/or remedy literary and historical omissions and exclusions. We welcome submissions in literary studies, history, the performing arts, Irish America, and gender, sexuality, and women's studies, among other fields. The Press is proud to be the exclusive distributor of the prestigious Irish publisher, Arlen House.
For more information, email Acquisitions Editor Deborah Manion dmmanion@syr.edu.
Featured author . . .
Joe Lines, author of The Rogue Narrative and Irish Fiction, 1660-1790
Forthcoming Fall 2021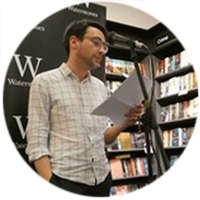 We asked Joe Lines a few questions about his forthcoming book:
SUP: What initially drew you to crime fiction and rogue narratives?
JL: Typically enough, the book developed out of my PhD thesis, which was on the literary tradition of the "picaresque" in Irish fiction. The spring for that idea was having to read the novels of Beckett as an undergraduate alongside eighteenth-century fiction by Fielding, Diderot, and Voltaire. None of that literature is about crime, but it is all picaresque, that is, it features wandering movement, vagrancy, and characters who might be rogues or delinquents. As a postgraduate in Belfast, I was lucky enough to carry on thinking about the picaresque in some Irish writers I'd never encountered previously, such as William Carleton and Maria Edgeworth. The picaresque, of course, originated in sixteenth-century Spain. But in England and Ireland, from about 1600 to 1750, it becomes melded with stories about rogues—often, real people who broke the law and then became known to the public. That interplay between biographical history and international literary genre is really the key to my interest in crime stories.
SUP: Do you see any connection between the history of fiction and the history of crime and punishment in Ireland?
JL: There are many such connections, and some of them feature in this book. One instance might be real criminals who become the inspiration for characters in novels. The book is informed by the history of crime and punishment in Ireland and Britain, but in quite a diffuse way, without formulating the kind of overarching connection that your question implies. A lot of the stories that I write about are actually set in London and were written and published there. So large parts of the book are interested in Irish migration and the prejudices that the Irish in England faced, whether they were farmhands, labourers, or educated people from the gentry. It's my argument that these British assumptions that the Irish (men, especially) were somehow suspect affected the kinds of stories that could be told; and this happened even when the writers themselves were Irish (and probably sick to death of those stereotypes!). One thing I find interesting is that certain crimes feature a lot in eighteenth-century Irish fiction, but others appear barely at all. For instance, the texts are full of highway robbery; but the agrarian agitation that was then so common in rural Ireland leaves no impression.
SUP: Which Irish writer from your area of interest deserves to be more widely known?
JL: The seventeenth-century writer Richard Head is the subject of my first chapter. He was born in Carrickfergus, Co. Antrim in the 1630s, lived through the rebellion that broke out in Ireland in 1641, then went to England, became a bookseller, and wrote all kinds of things, from criminal biographies to plays. He could fairly be described as infamous, though in a different way to the criminals who also feature in my study. In 1665, one of his books, The English Rogue, was denied a license due to its obscene content, meaning that it couldn't legally be printed; anyway, it became an underground bestseller. In the 1670s, he took a novel published fifty years earlier by one Nicholas Goodman, changed the title and the names of some characters and places, and published it as his own work – The Miss Display'd (1675). By the way, these two titles I've mentioned are, I think, the first two works of fiction ever to use Ireland as a setting. In my chapter, I don't really stress his misdemeanours, preferring to focus on what actually happens in his books. Still, I needed to do a lot of research about his life, which was fun.
SUP: What is the most surprising discovery you've made in the course of your research?
JL: When you work on eighteenth-century Irish fiction, you make a new "most surprising discovery" every fifty or so pages, because many of the novels you'll come to be interested in are completely unknown and unread—often, we don't even know who the author is, or we're only aware of the book's existence thanks to a line in a bibliography or critical survey somewhere. At that time, the fiction market was very much oriented towards London and the monied English reader, so novels about Ireland or by an Irish writer were not advertised or framed as such. So, the reader might well assume that a given text has very little to do with Ireland… and then, when you've trudged along on stony ground for the first few hundred pages, suddenly you'll be thrilled when someone flits off to Dublin, or an Irish character takes centre stage and tells you how they see the world.
In a different way, I was surprised to realise the amount of contemporary romance novels whose titles feature the phrase "Irish Rogue". I haven't actually read any of them, but it seems that the contemporary rogue is distinguished from his eighteenth-century ancestors primarily in his smouldering glare and impressive six-pack!
Featured titles . . .
Unaccompanied Traveler
The Writings of Kathleen M. Murphy
Edited by Patrick Bixby
Stepping through Origins
Nature, Home, and Landscape in Irish Literature
Jefferson Holdridge
The Last Bohemian
Brian Desmond Hurst, Irish Film, British Cinema
Lance Pettitt
Avant-Garde Nationalism at the Dublin Gate Theatre, 1928-1940
Ruud van den Beuken

View all Irish studies titles